COVIDSafe Info
Capitol Theatre Tamworth, Tamworth Regional Entertainment Conference Centre (TRECC) and Tamworth Town Hall are all NSW Health regisitered COVID Safe Venues.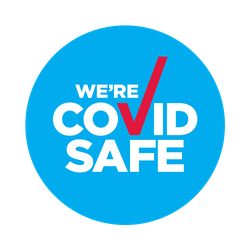 Safe Environment
Entertainment Venues is committed to providing a safe event environment in accordance with the guildlines as set out by NSW Government for Cinemas, Theatre, Concert Halls and Entertainment Venues. The health and safety of our audiences, staff and performing artists is our focus and as a registered COVID Safe venue, we have a COVIDSafe Plan and comprehensive operational plan in place to keep you safe.
LATEST UPDATES TO COVID-19 RULES IN NSW
As at 24/12/21
Anyone can visit an entertainment facility or indoor and outdoor recreation facilities -Entertainment facilities include cinemas, theatres, musical halls, concert halls, dance halls, drive-in cinemas and play centres.
You are not required to be fully vaccinated or carry vaccination evidence.
COVID-19 Safe Check-in is no longer a requirement but is still strongly recommended.
Face masks are required for all those people overe the age of 12 years, subject to exemptions.

Indoor and outdoor recreation facilities include stadiums, theme parks, zoos, aquariums, and showgrounds.
For more information CLICK HERE
COVID-19 Stay Safe Rules for people in NSW - CLICK HERE